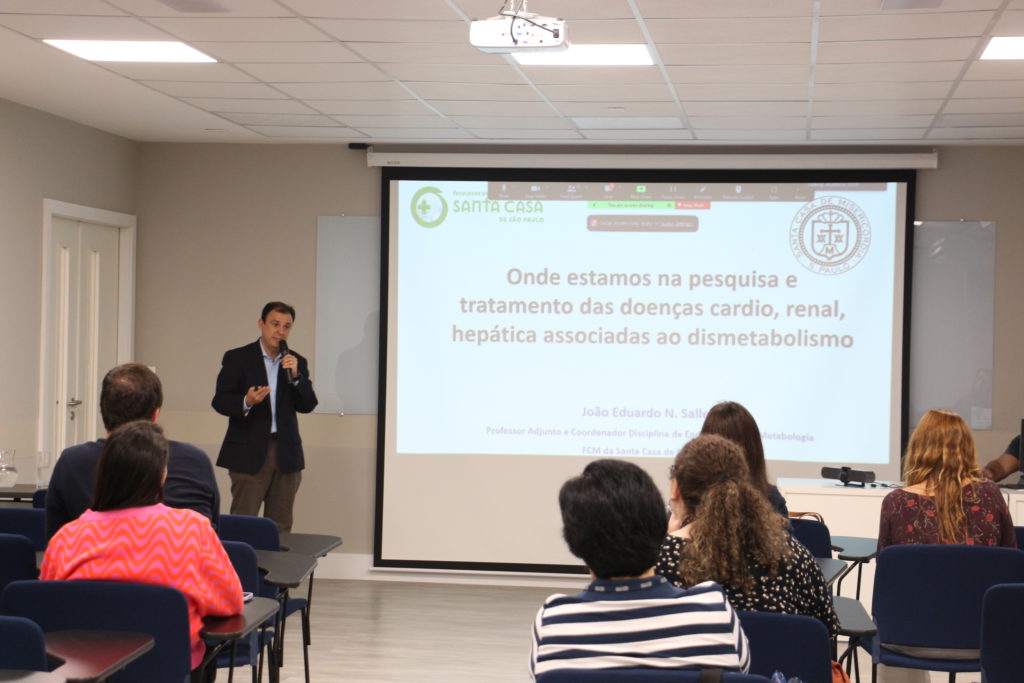 Last Monday, 11/07, the D'Or Institute for Research and Education (IDOR) received Doctor João Eduardo Nunes Salles at our head office in Botafogo/RJ, for a lecture. The meeting took place in the Auditorium and online for remote participants. The introduction fell to Dr. Fernanda de Felice, a researcher at IDOR. 
João Salles is a doctor with a Ph.D. in Clinical Endocrinology from the Federal University of São Paulo and is an assistant professor at the Faculty of Medical Sciences of Santa Casa de São Paulo, in addition to coordinating the discipline of endocrinology. 
His area of expertise has an emphasis on Endocrinology and Metabology, mainly on the following topics: Type 2 Diabetes and Type 1 Diabetes, Diabetes in the elderly, Obesity, Bariatric Surgery, and Diseases involving mitochondrial DNA. 
The speaker reported on the complications of diabetes, including retinopathy, which is the leading cause of blindness in adults, and neurological disorders that include stroke. Additionally, Dr. João explained the relationships between kidney diseases, diabetes, and cardiovascular changes, where he highlighted that 32% of chronic kidney diseases are caused by diabetes, and kidney decline is associated with cardiovascular death. Finally, the doctor also commented on the main advances in research related to human metabolisms, such as hyperglycemia and obesity, with the presentation of data from clinical research and meta-analyses.